FRV, Energy Toolbase & Ecopulse launch pioneering 'Energy-Storage-as-a-Service' project for the Mexican industrial sector
The three companies have teamed up for the installation of what represents the first project based on an 'Energy Storage-as-a-Service' or EnSaaS model focused on the Mexican industry, that enables the optimization of energy consumption and significant savings for the final customer.
Developed in the Iztapalapa Industrial Center, Mexico City, the system will not only allow savings, but also optimize the site's power factor, and improve the overall quality of facilities' electrical service.
FRV is already positioned as the second-largest developer of renewable energies in Mexico with nearly 1 GW of photovoltaic projects in operation and is actively seeking to consolidate its position at the forefront of the global energy sector
Mexico, February 28th 2022
Fotowatio Renewable Ventures (FRV), part of Abdul Latif Jameel Energy and a leading global provider of sustainable energy solutions, together with Energy Toolbase (ETB), a software company specializing in the economic optimization of energy storage systems, and the Mexican developer Ecopulse, focused on 'behind-the meter solutions', enter a long-term collaboration to develop and deploy energy storage projects under an innovative 'Energy Storage-as-a-Service' (EnSaaS) model focused on the Mexican industrial sector.
Furthermore , FRV has pledged to assume all investment and operational costs of the model, which will provide noticeable electricity bill savings to its customers, who will be able to utilize the service without an investment or fixed service fee. The model's cutting-edge Battery Energy Storage System (BESS) will be based on the latest Liion battery technology, and is operated with ETB's sophisticated predictive optimization software, Acumen EMS™, laying the groundwork for the large-scale and innovative deployment of this technology and business model across Mexico.
This system, which will be integrated by Ecopulse in Mexico City, in the thriving industrial center of Iztapalapa., With a nominal power of 480 kW, clients will be provisioned with up to two hours of stored energy. It will allow industrial clients to optimize energy consumption without interfering in production, generating savings on the electricity tariff without the obligatory capital investment payments or associated operating costs. This is FRV's first major energy storage project in Mexico under the EnSaaS model and is designed to specifically optimize and manage energy consumption for commercial and industrial clients.
Currently, FRV-X has a portfolio of more than 500 MW of battery storage projects in different countries, including 42 MW of projects in commercial operation, so this project represents a further step in FRV's global expansion in the area of energy storage as well as in its objective to continue increasing its portfolio of projects of this type.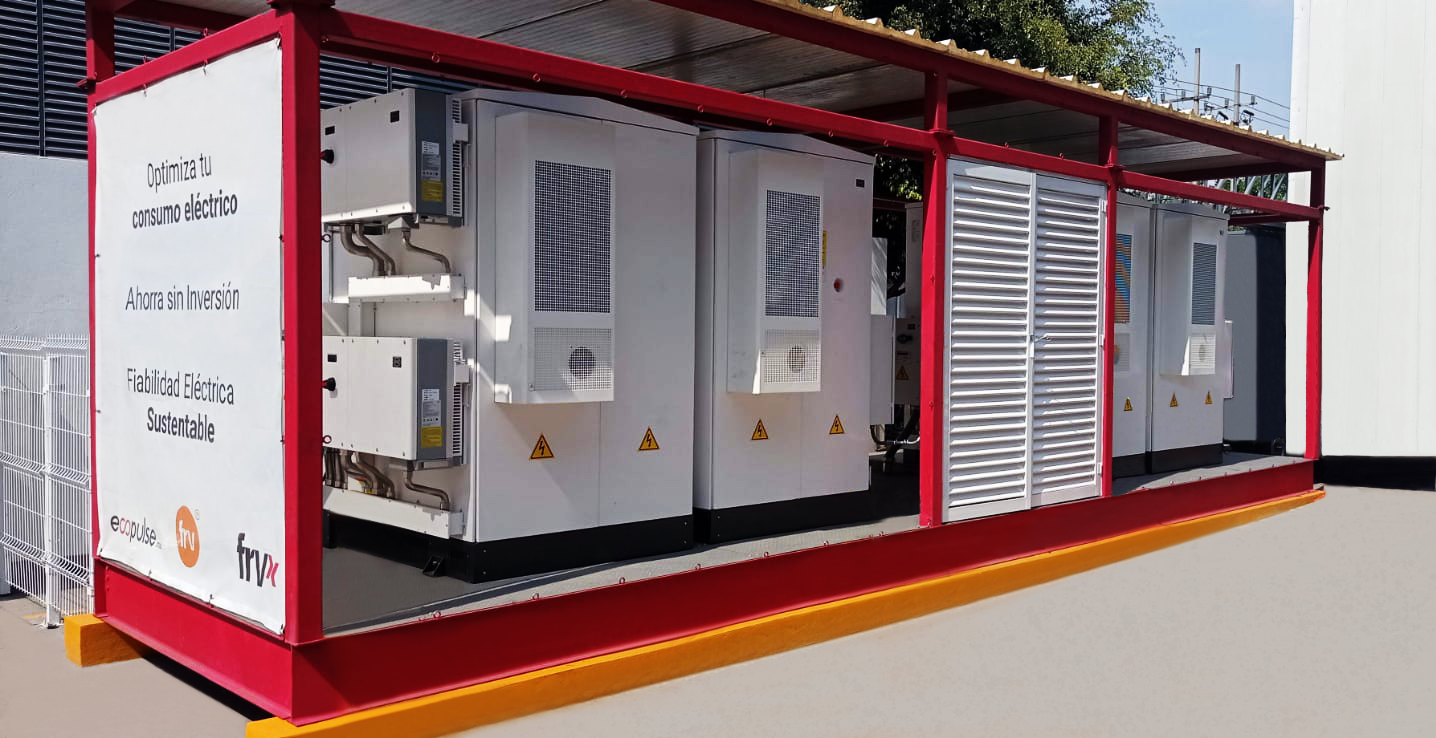 Energy storage systems provide an ideal cost-efficient method to reduce grid congestion, balance the electrical system, and mitigate the impact of intermittent renewable generation such as wind and solar, as well as supporting the ecological transition towards a greater breakthrough of renewable sources of power.
In addition, in electricity markets similar to Mexico, where the final consumer is subject to demand charges and hourly tariff schemes (ToU), energy storage systems, coupled with Acumen EMS™, can manage consumer demand, delivering savings while reducing stress on the electrical system at peak hours.
Conceived and developed by FRV-X – FRV's technology incubator – the system will be installed in a behind-the-meter structure and will operate autonomously with no human intervention thanks to Energy Toolbase's Acumen EMS™ software, which uses artificial intelligence to predict consumption and enable the BESS to respond optimally according to the hourly electricity tariff.
This project undoubtedly represents a revolution in the field of energy consumption for the Mexican industrial sector, offering users a flexible and efficient option that will bring them immediate results and benefits. In addition, Mexico is one of our main markets and, with this project, we are actively contributing to the consolidation of an increasingly sustainable energy model in the country.
Miguel Sepúlveda
Director of Business Development for FRV-X in Latam

.
Partnering with FRV to deliver both an optimized BESS along with a unique EnSaaS business model will be of great benefit to the Mexican market, enabling the adoption of renewables by deploying energy storage systems benefits all parties involved, and we're excited to help FRV and energy consumers in the Mexican industrial sector achieve more energy savings, more energy independence, and more electrical grid stability in a way that will benefit many generations to come.
Reid Wuntke
President of Energy Toolbase
This alliance between the companies involved, will create an amazing opportunity for all the C&I customers in Mexico since it reduces their energy costs and meets their environmental requirements without having to do any additional investment. EnSaaS is positioned as an incredible offering for the Mexican market, and a great vehicle for Ecopulse in its mission of helping all Mexican companies achieve energy independence.
Gerardo Ferraez
CEO of Ecopulse
We are proud to announce that FRV, part of Abdul Latif Jameel Energy, has entered into a long-term agreement with software specialists Energy Toolbase, and 'behind-the-meter solutions' developer, Ecopulse. Our partnership will lead to the development of innovative energy storage projects, with an initial focus on the Mexican industrial sector. This groundbreaking collaboration will serve to emphasize our continued commitment towards digitalization and expansion, showcasing the great strides made by businesses in diverse global markets.
Fady Jameel
Deputy President and Vice Chairman of Abdul Latif Jameel
As part of the EnSaaS project, FRV has also established an agreement with Operati to develop a customer service system created exclusively for these developments, providing real-time support and daily consumption management reports, ensuring a transfer of the technological know-how to the final customer.
FRV is already positioned as the second-largest developer of renewable energies in Mexico with nearly 1 GW of photovoltaic projects in operation and is now seeking to consolidate its position at the forefront of the global energy sector incorporating new technologies and promoting the digital transformation of the sector.
This new consortium made up of FRV, ETB, Operati, and EcoPulse, promises to revolutionize the Mexican industrial electricity market with the implementation of the EnSaaS energy storage system.